PIERSON BASEBALL is playing in Game 3 of the the best of 3 Championship Series against Port Jefferson HS to determine the Section XI/Suffolk County Class C Champion.Friday, 5/27 at 12pm at Port Jefferson *Please note the time change due to the potential for poor weather conditions at the originally scheduled time. No Student Spectator Bus* THERE WILL BE AN ADMISSIONS CHARGE FOR THE GAME. TICKETS CAN BE PURCHASE ONLINE
https://gofan.co/app/school/NYSPHSAAXI
$8 online $10(cash only) at the site We are being informed that a live stream of the game will occur.
https://www.youtube.com/watch?v=Q9RJKQaw4ug
LIVE STREAM Suffolk Class C Baseball Game 3 The winner of Friday's Game will play the Conference V Championship against the Class B Champion Center Moriches on Sunday, May 29 at 12 noon at the PAL Complex in Holbrook.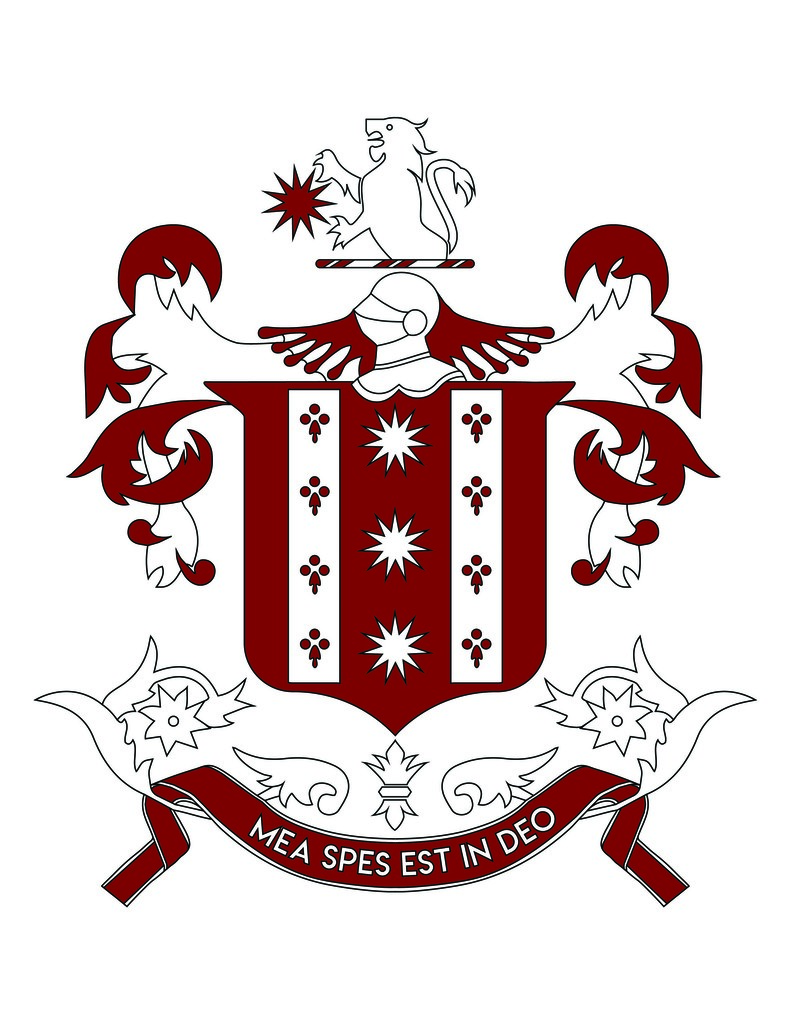 CONGRATULATIONS to PIERSON BASEBALL for advancing in the Section XI/Suffolk County Class C Tournament The boys play the best of 3 series against Port Jefferson HS to determine the Class C Champion. The schedule for the CHAMPIONSHIP SERIES is: GAME 1: Monday, 5/23 4pm at Port Jefferson GAME 2: Tuesday, 5/24 4pm HOME at Mashashimuet Park GAME 3: *IF NECESSARY* DATE/TIME TBD at Port Jefferson (This game will take place on Wednesday, 5/25 or Friday, 5/27) THERE WILL BE AN ADMISSIONS CHARGE FOR EACH GAME OF THE CHAMPIONSHIP SERIES TICKETS CAN BE PURCHASE ONLINE LET'S GO WHALERS
https://gofan.co/app/events/618600?schoolId=NYSPHSAAXI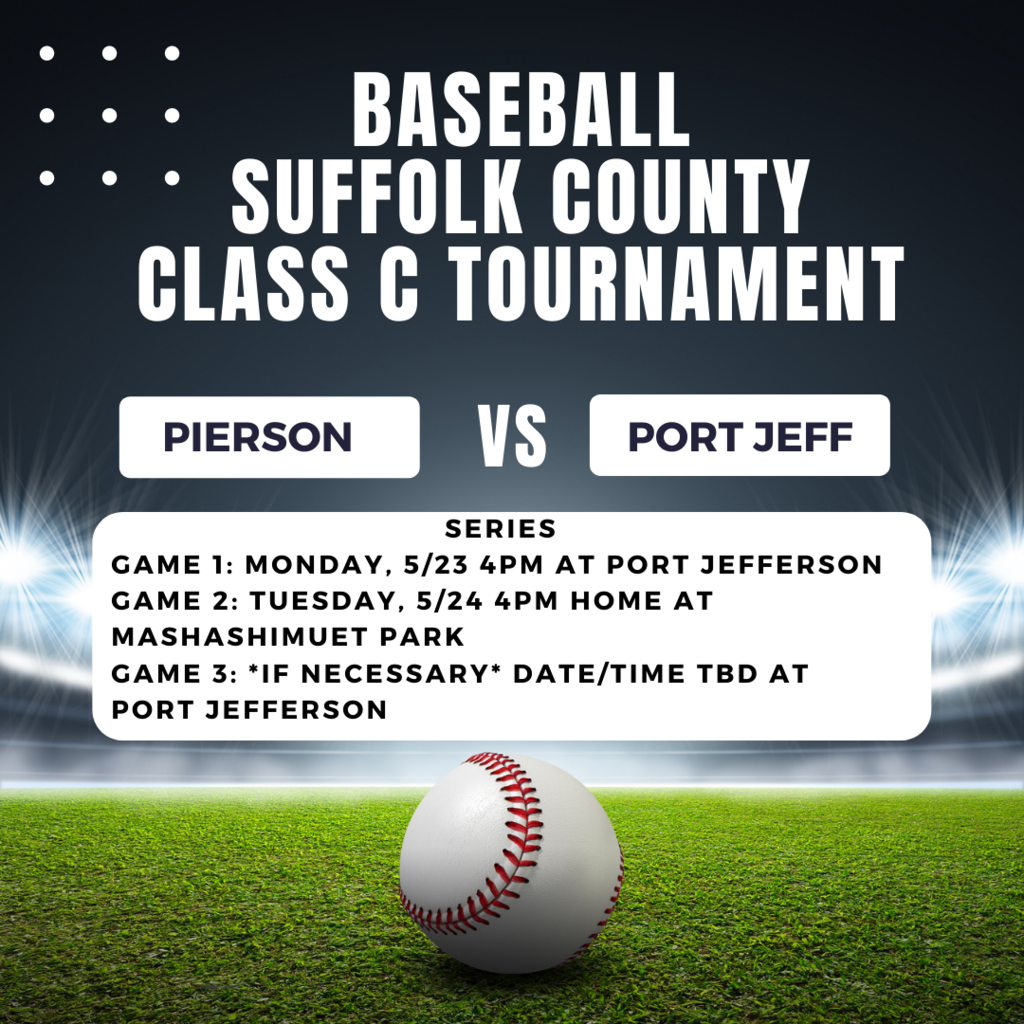 2022-2023 Budget Vote Results


We invite you to attend Pierson Student Council's Movie Night tonight, Friday, May 6 at 7:00 pm in Pierson Auditorium. The cost is $5 for ages 3 and up! This event was originally scheduled to be outside on Pierson Hill. However due to weather we are moving the event to the Auditorium. We will be watching Surf's Up! Hope you can come.
We invite you to come and listen to the wonderful music that all the groups and students will be performing! All family members and friends are welcome. Attendees will be seated on a first-come, first-served basis. All concerts will begin at 7:00 pm and will take place in the Pierson High School Auditorium. All musicians should arrive by 6:30 pm. Parent/guardians of musicians please refer to the Parent Square message for preparation details.

Pierson High School Student Council is hosting a Movie night on Pierson Hill this Friday, May 6 at 7 pm.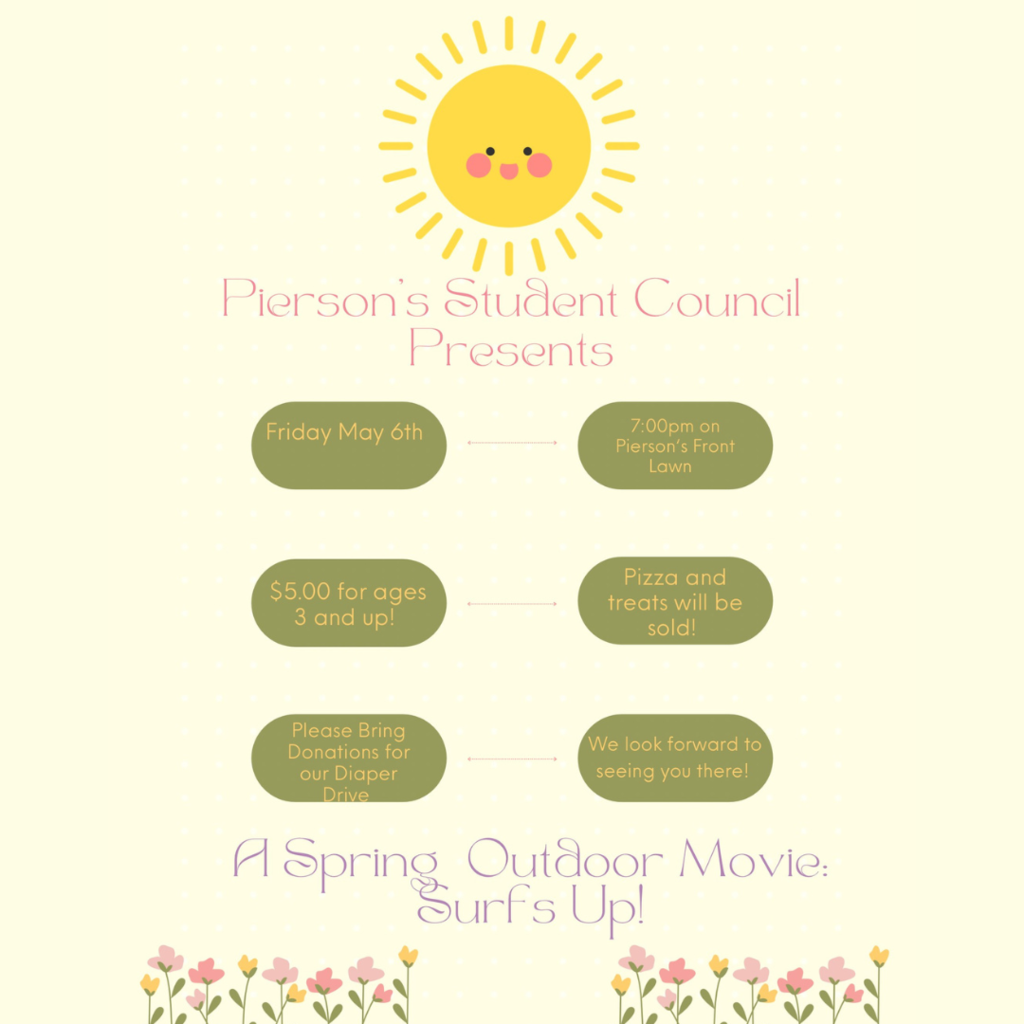 Unfortunately due to wind we had to cancel the drive in movie night sponsored by the Pierson High School Student Council. We apologize for the late notice. We hope to reschedule in the future.

The Pierson High School Student Council is hosting a drive in movie this Friday, April 29 at Mash Park. The will be showing the movie Surfs Up! Pizza and Treats will be served.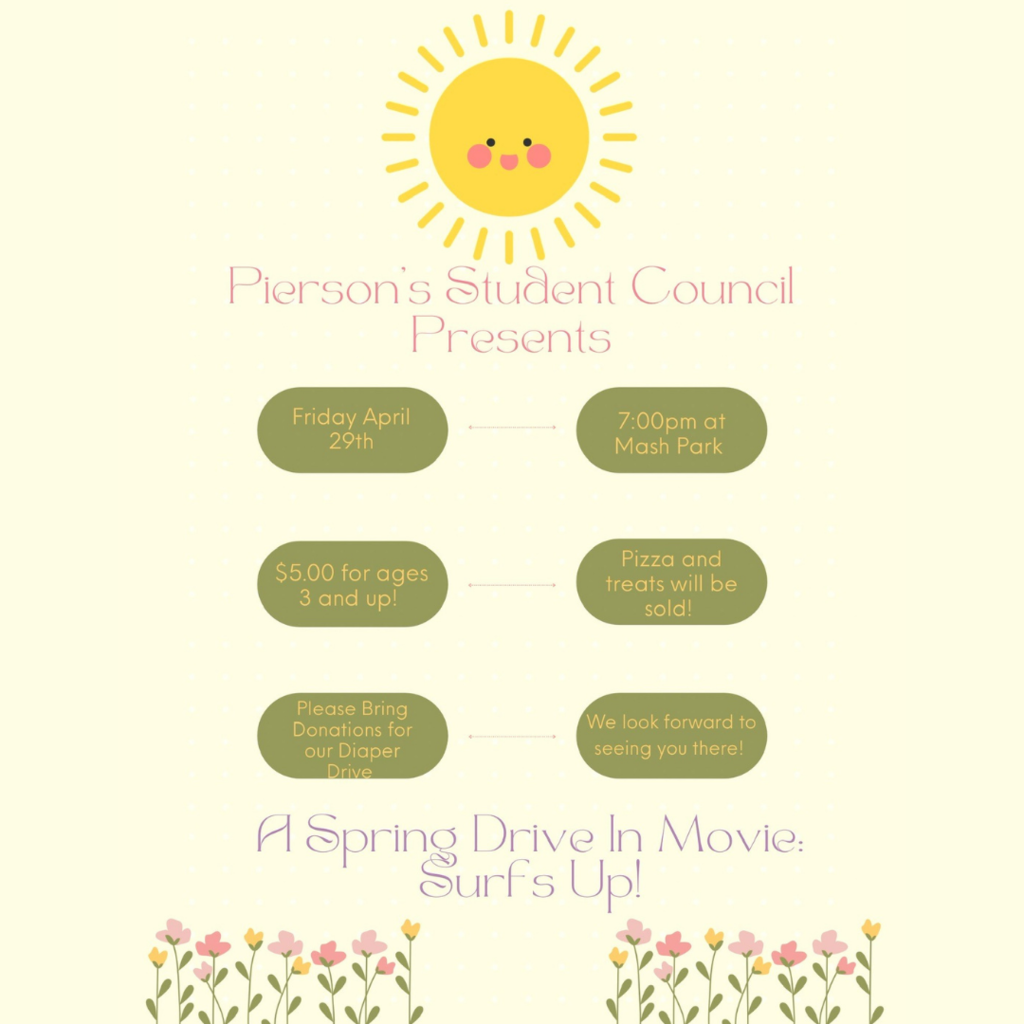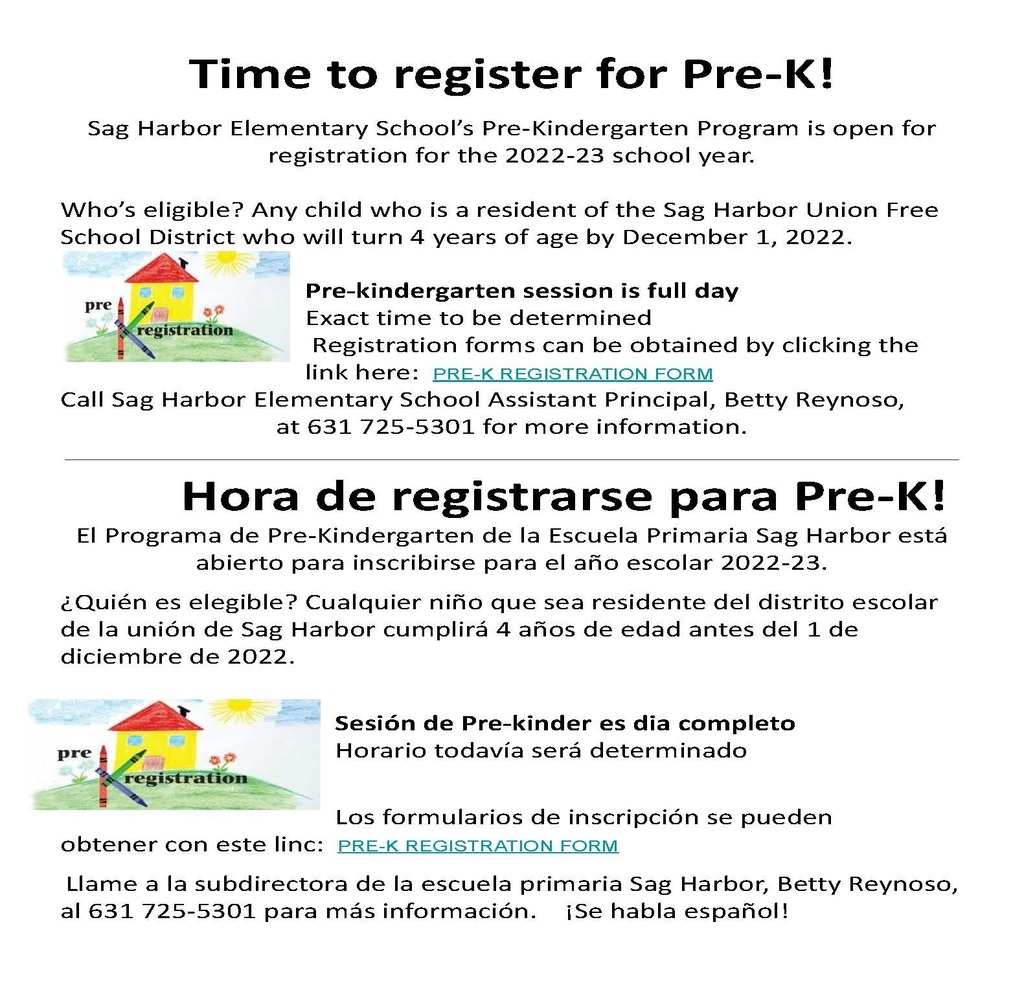 Our fabulous High School theater students will be performing The 25th Annual Putnam County Spelling Bee, and it is delightful and appropriate for the whole family. Show dates are April 7th @ 7:00 pm, April 8th @ 7:00 pm, and April 9th @ 2:00 pm & 7:00 pm. Tickets can be reserved at Pierson's Main Office by emailing
agalanty@sagharborschools.org
. Please use "Tickets" as your subject, and please include the date, time, and the number of tickets requested. Tickets can also be purchased at the Main Office during the school day. Tickets are $10 for adults and $5 for students. Please come out to support our hardworking cast and crew. We hope to see you at the Bee.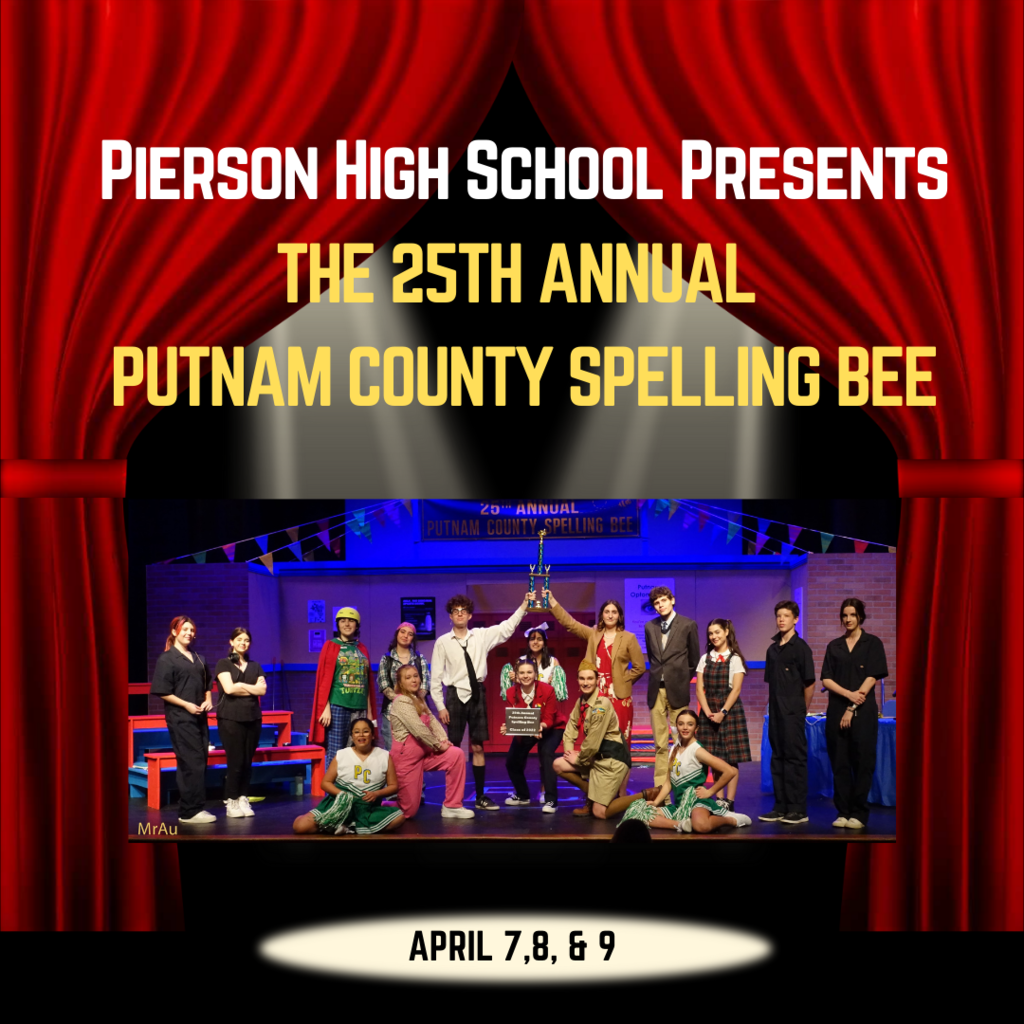 Final score. Great season whalers!!!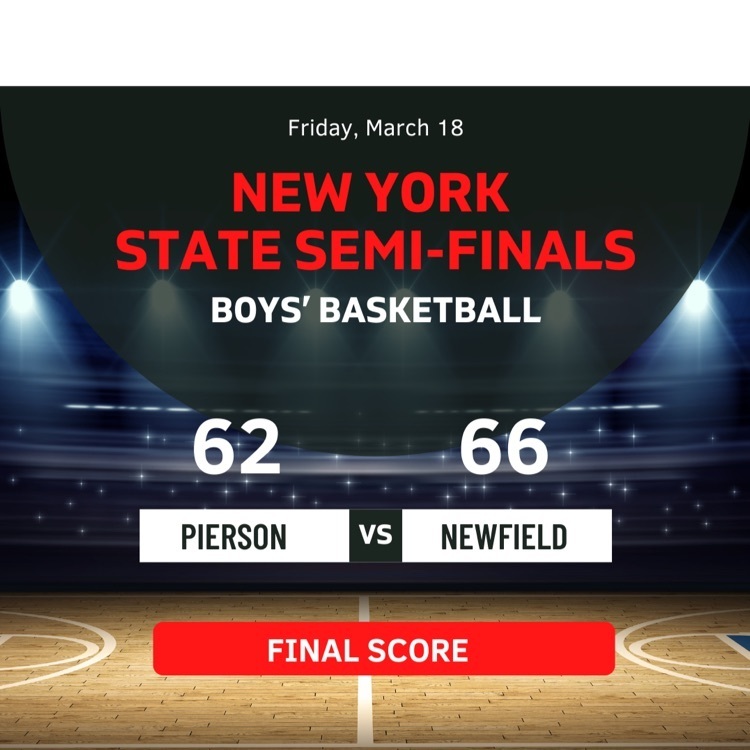 End of 3rd quarter. Up by 5. Let's go whalers!

End of the 2nd quarter. Up by 4. Let's go!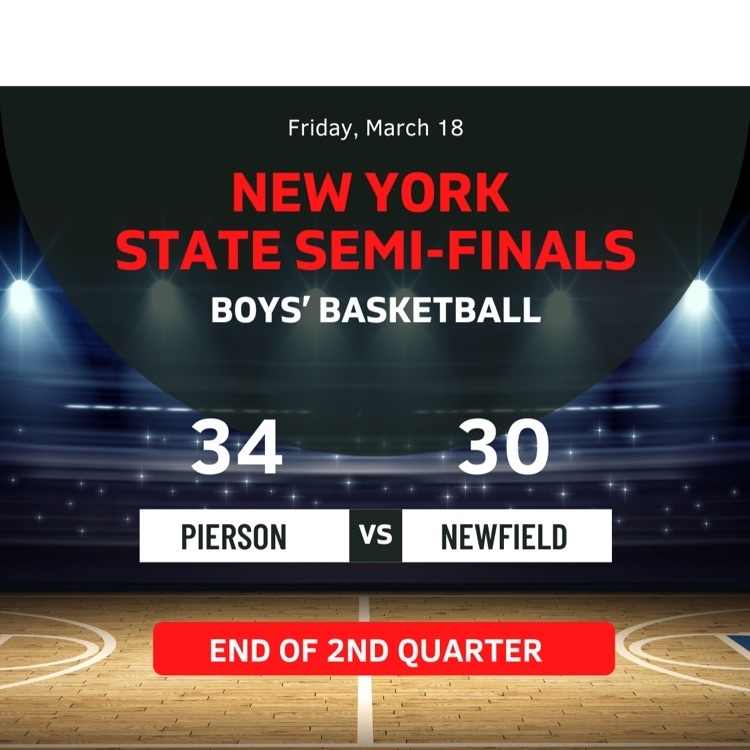 End of first quarter. Down by 11. Let's go!