Don't miss the Opening Night tonight of the Middle School Production of Willy Wonka and The Chocolate Factory!! 7:00 PM!

Don't forget: Tonight is Coaches vs Cancer Night First Responder vs staff 5:40 pm Pierson varsity girls basketball vs Babylon 6:30 pm Donations accepted at the door. Proceeds will go to the American Cancer Society and St. Baldricks Foundation.

January 25th - Spirit Night January 29th - Coaches vs. Cancer, First Responders February 1st - Varsity Boys Basketball vs. Bridgehampton February 6th - Varsity Boys Basketball Senior Night February 7th - Varsity Girls Basketball Senior Night - for the League Championship!

Don't forget tonight is Spirit Night! Come cheer on the Whalers!!! 4:10 Youth Hoop Games 5:00 Pierson Girls Varsity vs Port Jefferson 6:15 Youth Hoop Scrimmages 7:15 Pierson Boys Varsity vs Ross

Blood Drive today, Wednesday, 8am - 2pm in the Pierson HS Gym

Congratulations to The Varsity Boys Swimming Team for the undefeated League Championship they earned with a 9-0 record. Good Luck in the playoffs!

Brian DeSesa was appointed to the vacant board seat at last night's meeting and will be sworn in on January 28th. There will be 3 board seats open at this year's election on May 21st. Petitions to be on the ballot must be submitted by April 22, 2019 to the District Clerk.

The Special Board of Education Meeting scheduled for tonight, January 15, 2019 has been cancelled.

The Board of Education would like to thank Brian DeSesa, Caleb Kercheval, and Yorgos Tsibiridis for their willingness to serve, and applying for the open seat. We look forward to getting to know them a little better during interviews on January 14, 2019, 6pm Pierson library.

Reminder: January 11, 2019 is the deadline to apply to the Board of Education for the vacant board seat. Send request to serve to
boe@sagharborschools.org

Letter to the Sag Harbor Schools Community Regarding Vacant Board of Education Seat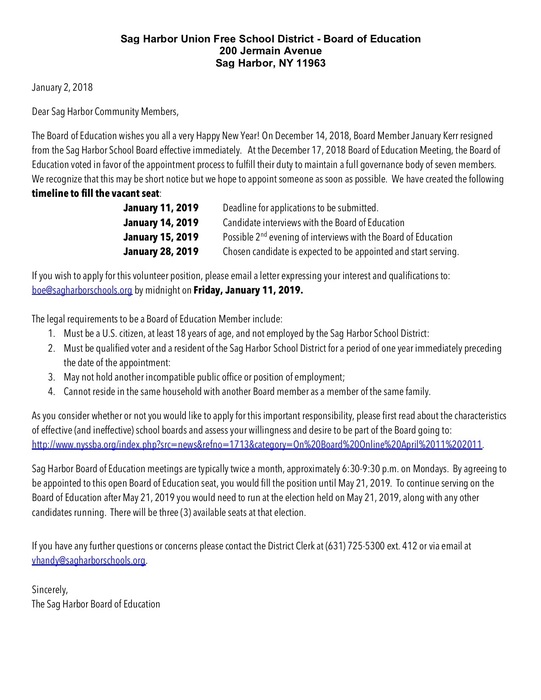 Just a reminder there will be an early release drill today. Pierson will be dismissed at 1:31 pm and Sag Harbor Elementary will be dismissed at 2:36 pm.

There will be no shuttle bus to East Hampton sports on Friday, December 21 due to the Early Release Drill.

The Board of Education Meeting scheduled for Monday, December 10 is cancelled.

The Pierson National Honor Society students will participate at the 15th annual Polar Bear Plunge today Saturday December 8, 2018 @ Cooper's Beach! Funds raised will support Heart of the Hamptons! To support and donate go to:
https://heartofthehamptons.org/user/piersonnhs/

The Board of Education Business Meeting which was originally scheduled for December 3 is rescheduled to Monday, December 10 at 6:30 PM in the Pierson Library.

The Board of Education Meeting scheduled for Monday, December 3 is cancelled.

The Pierson National Honor Society students will participate at the 15th annual Polar Bear Plunge on Saturday December 8, 2018 @ Cooper's Beach! Funds raised will support Heart of the Hamptons! To support and donate go to:
https://heartofthehamptons.org/user/piersonnhs/

The upcoming Digital Citizenship Workshop will take place on 12/12 at 5:00 pm in Pierson Library. The focus will be on SnapChat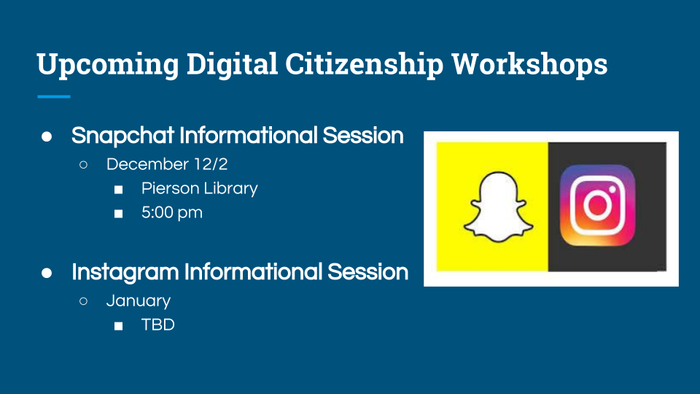 Come to the High School play November 15, 16 and 17. Tickets on sale in the Main Office $7.00