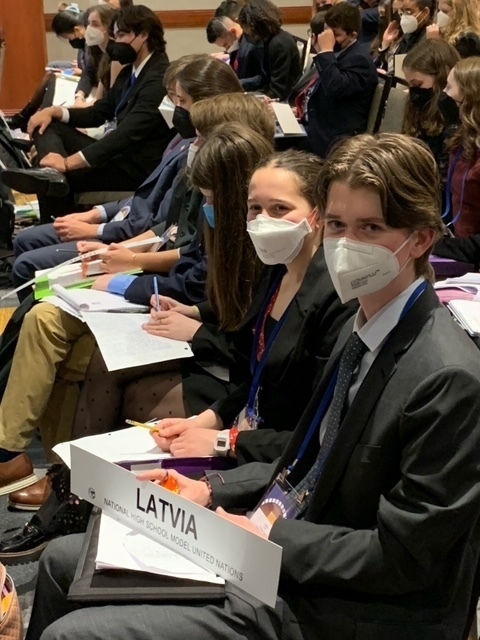 Following a delay due to health restrictions, the National High School Model United Nations Conference took place on March 23-26 and the Pierson High School Model UN team pulled together to represent their chosen countries at the NYC event.

Each year, Francisco Atkinson-Barnes, Pierson's Model UN club director, helps students prepare for the conference. All high school grade levels are eligible to participate, and some students join the club year after year. Atkinson-Barnes, a Pierson alumnus, explained that he encourages the returning students to choose a different country each year to widen their knowledge base.

As part of the preparation for the conference, the students are expected to do research on the background of Model UN, study their chosen country, and write a position paper as if a representative of that chosen country. Some students join the club to try something new, and others join because International Affairs is a topic they'd like to study in college.
The NHSMUN conference is run by college students who mentor and guide the participating students using educational tools and resources for skill building workshops and committee sessions. This year, the conference was largely split into two sessions with about 3,000 students attending each session. Many students at the conference are coming from schools nationwide, while some students are coming internationally.

"It's a great program. The students get to meet people from all over the world and some of them share information to keep in touch even after the conference," explained Atkinson-Barnes. "I encourage all students to join the club because you don't have to talk or present at the event to attend, you can go to learn and take advantage of the opportunities it offers."

Atkinson-Barnes went on to explain that he'll notice some students branch out and get involved in the small group discussions when they otherwise may not have. One student mentioned that after three years of participating in Model UN, he feels he can really "find himself" in the club and conferences.

NHSMUN allows for real-world experience in multiple forms including debate and the opportunity to hear from and meet United Nation figures such as members of government and international affairs experts. This year the students heard from U.S. Secretary of State John Kerry who was one of many virtual speakers.

Model UN allows students to develop creative solutions for global issues and for the 25 Pierson students that participated this year, it was a great opportunity to pair professionalism and real-world exposure to enjoyable, collaborative learning experiences.
Photo caption: Pierson High School students traveled to the National High School Model United Nations conference.